Music
17 reasons why 'Frosh: The Album' still rules
by Mark Teo
As the college-aged among us know well, September is fast approaching. And whether you're making your first foray post-secondary, returning for another year of being an international development major, or you're a washed-up hack reminiscing on their university years (sup, me?), early September, or Frosh Week, is a special time: It's a free license to damage your liver with whatever's in that red cup, wake up in a new friend's bathtub, and vomit into your only pair of good shoes.
It's a magical time. Less celebrated than Frosh itself, however, was Frosh: The Album, a 1998 compilation that was meant to celebrate all things young, promiscuous, and drunken. (It also had plenty of spinoffs, like Frosh 2, Frosh '90s, and more.) Indeed, it was dumb and fratty. Sure, it was woefully of the '90s. But we loved it nonetheless. Here, our track-by-track breakdown of the original Frosh: The Album.
1. Blur — "Song 2"
As soon as that drumbeat kicks in, you instinctively know what to do. Chug that bottle of Ex, pop your university tee off, turn to the rugby shirt-clad Anglo Saxon to your right, and spit it in his dumb ugly face: "WOOO HOOOO!"
2. Spirit of the West—"Home For a Rest"
OK, inevitably your friend Kayleigh is going to drag you to some Irish pub named like, Padraigh McConaughanahan's Kilt because it's like so fun, and as you walk in, you're going to be handed an Irish Carbomb, which you have to pound. Then, the chorus hits: "You'll have to excuse me / I'm not at my best / I've been gone for a month / I've been drunk since I left," and you're like, OMG everything about this song is true. Haligonians have developed a hatred for this song so fierce, it's reputed to be able to split an atom. Sociables to you, Maritimers.
3. The Proclaimers — "I'm Gonna Be (500 Miles)"
The reason this song works is because no matter how wasted you get, you'll be able to sing along to that part that's all, "Duhhh duhhh duhhh / Duhhh duhh duhhh / Nrrr nrrr mmmbbb nrrr nrrr bum bum bum."
4. Stealers Wheel—"Stuck in the Middle"
This song get super real when you realize that you're at a jazz bar, watching a live band with a., that dude you know from Econ rapping, b., a guy with a white afro playing a slap bass, and c., some dude from Rochester, New York scratching shitty jazz records aimlessly.
5. Violent Femmes — "Blister in the Sun"
Inevitably, some ultimate frisbee player from Victoria, B.C. is gonna whip out a guitar in the quad, and you just know the first notes he's gonna play. You know it.
6. The Romantics — "What I Like About You"
This is the song that ensured that Romantics LPs will be hung ironically on the walls of college-dude houses from now 'til, like, eternity. Romantics, claim your rightful wall-space between those Culture Club and Steve Miller Band records.
7. David Wilcox—"Do the Bearcat"
OK, you might know what a bearcat is—and neither do we—but you sure as shit know this song.
8. Denis Leary — "I'm an Asshole"
Here, potentially the most juvenile song of the last two decades. If you're the type of person who fancies themselves an asshole, revel now, because you're eventually going to take an entry-level marketing class that's going to teach you all about networking, Klout scores, and "making events experiential and social." It'll basically tell you that assholes can't succeed in the world, all while making you feel like a giant, shit-filled asshole.
9. Beastie Boys — "Fight For Your Right (To Party)"
The Beastie Boys made an entire career out of being the types of dudes you hope show up to the party: They were sophomoric shitheads who drank all your beer, stole your stereo, then upper-decked your toilet. Of course, dudes like this don't really exist, but their party-dude aesethetic was so influential, they produced a loboto scumbag echo that's still resonating decades later.

10. Pigbag—"Papa's Got a Brand New Pigbag"
If you remember that this song was the theme song for CityTV's The New Music, then like, feel old. Feel very old.
11. Gary Glitter — "Rock 'n' Roll Part 2"
Gary Glitter might be a houseboat-dwelling creep you could never leave alone with a toddler, but "Rock 'N' Roll Part 2" is fucking magic. It brings together hockey-obsessed musclemen and shoulder-less, slouchy garage-music snobs. No, really: Its iconic drumbeat can be found on everything from The Black Keys contribution to the NHL 11 soundtrack to unstoppable Gentleman Jesse bangers.
12. The Village People — "YMCA"
For some real entertainment, the next time this Village People classic comes on, start watching people try to pull off the "YMCA" dance—you'll find all sorts of out-of-sync dance configurations, like YCMA, YAMC, and our favourite, CMAY.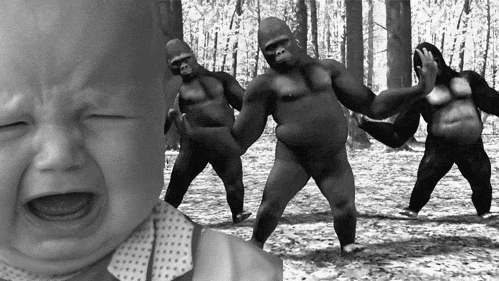 13. Dexy's Midnight Runners — "Come on Eileen"
Yeah, we get that "Come on Eileen" is an '80s-night staple. But we dare you to go up the DJ and request the ska version of the song.
14. Deee-Lite — "Groove is in the Heart"
This song is all about L-dancing in the window of Electric Circus, fuzzy Kangol Jamiroquai hats, and funky European men with hair buns. It's so disgusting that it's impossible to love "Groove in the Heart" ironically, so we're just going to have love it in earnest.
15. Billy Idol — "Mony Mony"
To be fair, "Mony Mony" doesn't exactly sound like college in 2013. It actually sounds more like a fictional 1986 knockoff of Footloose that somehow landed Jennifer Jason Leigh in a leading role.
16. Iggy Pop — "Lust For Life"
Next time this plays at the bar, count how many people are doing the mashed potato. How many do you see? 35? 36?
17. James — "Laid"
You don't need to be particularly perceptive to know it: We're all here for the same thing. We're here to get laid. Let's just put that out there. But do we actually need to get as explicit as James did on "Laid"? I mean, come on, the song opens with these tantra-friendly lyrics: "The bed is on fire with passionate love / The neighbours complain about the noises above / But she only comes when she's on top." Eeeee-eeeeeeee-eeeeeewwwwww, guys. Leave the sex-swing fare to Moist.
Tags: Music, Lists, News, Photos, Beastie Boys, Billy Idol, Blur, David Wilcox, Denis Leary, Iggy Pop, Spirit of the West, The Proclaimers, the village people, Violent Femmes